What do you mean by a listing fee as low as 1.5%?
We're referring to our portion of the commission when your home settles. When selling a home, you agree to pay the listing brokerage a percentage of the selling price. The listing brokerage will cooperate, or split, that commission with a brokerage representing the buyer. Commissions in this market tend to range between 5% and 6% and are typically split evenly between the listing and selling brokerages. This means the listing brokerage will receive between 2.5% and 3%, plus any brokerage fees, to sell your home. With the ListSMART program, the commission to the listing brokerage can be as low as 1.5%, with no additional fees.
How is your listing agreement risk-free?
Most brokerages expect a minimum initial term of 180 days to market your home. Typically, you cannot terminate the agreement, even if you are unhappy with the service. This will have an adverse effect on the selling price if your home sits on the market for an extended period of time. We're confident in our ability to provide a highly satisfying home selling experience so we put it in writing. Our listing agreement can be terminated with 3 days written notice for any reason.
What is the total commission to sell my home?
Any fees, commissions, or contractual terms are negotiable between a licensee and consumer and must be part of a written listing agreement. The commission offered to the Buyer's brokerage is always the Seller's choice. Research suggests the market norm is between 2.5% and 3%. This means the total commission could be as low as 4% depending on your selection.
Wouldn't my home get more exposure with one of the larger brokerages?
Simply put, no! Our custom crafted marketing plans guarantee maximum exposure to potential buyers. We utilize the same internet marketing technology to ensure your property is being viewed by the largest audience possible. We utilize the top sources known to be used by potential buyers.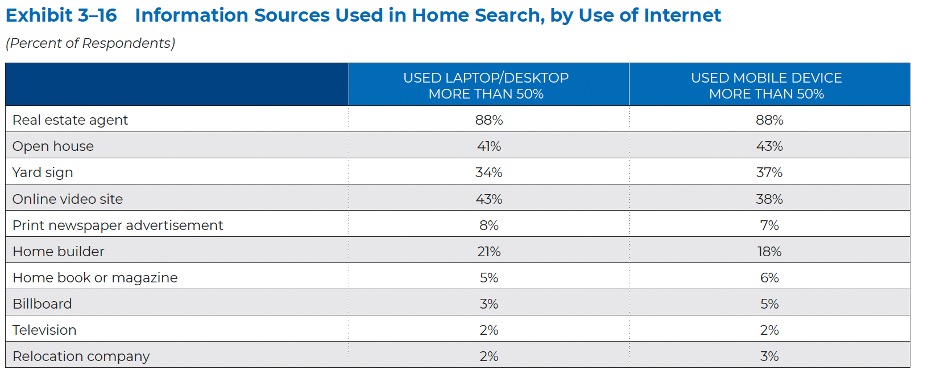 *2021 NAR Profile of Home Buyers and Sellers
Where do buyers find the home they purchase?
The internet has changed the way real estate is bought and sold. The trailing graphic shows the explosive growth of internet usage over the past 25 years. It's no longer a source, it's the source. Not only will your home be advertised on national and local real estate websites, it will be advertised on sites hosted by competing brokerages and agents. We are happy to review this model during our initial consultation.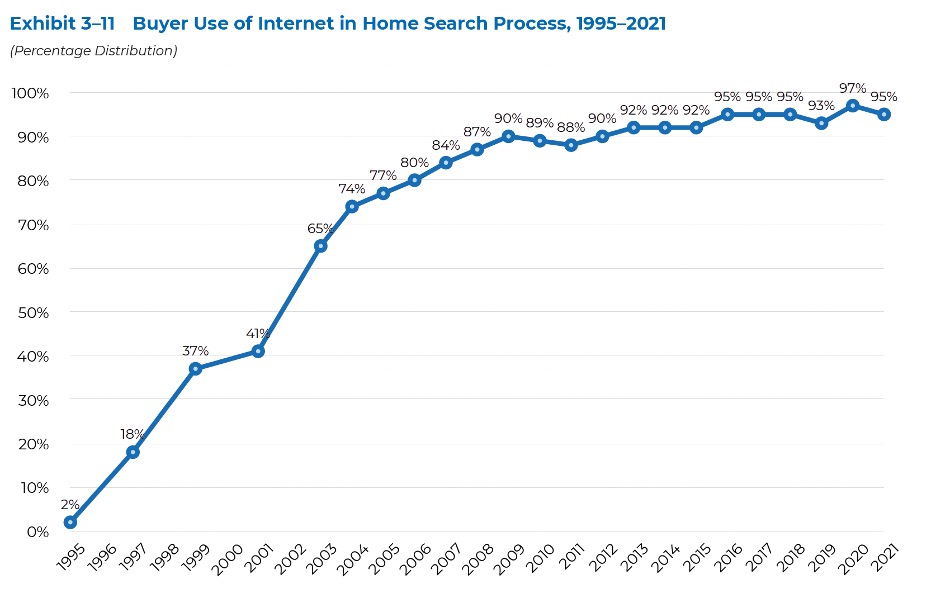 *2021 NAR Profile of Home Buyers and Sellers
Shouldn't I list my home with an agent from a large brokerage?
You can, but there is no advantage in working with a large firm. The agent you hire is the single most important decision you make. A large brokerage won't help your home sell faster or for a premium. Spend a few minutes reviewing our background, testimonials, and the results we've achieved for our clients. Please give us a call before you spend too much selling your home.